The easiest, vegan baked tomato soup with feta in a hot version, ideal for this season.
Made with tomatoes, onion, garlic, feta cheese and coconut milk.
Tips and Substitutions
If you are not vegan you can replace the vegan feta with classic feta.
You can use only tomatoes or only cherry tomatoes in your recipe.
If you don't like coconut milk you can use almond milk.
If you like this soup you can also try some of the following:
Vgean Pumpkin Soup with Oven Baked Veggies
Vegan Oven Baked Soup | 211 Calories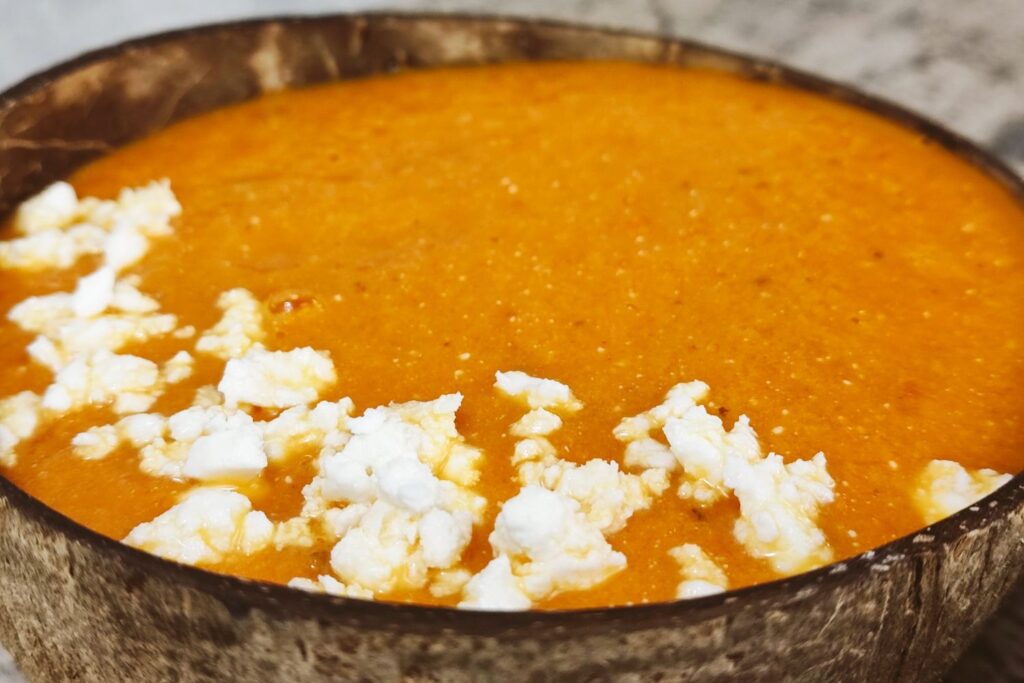 How will you preserve your soup?
The tomato soup keeps perfectly in the fridge and in fact on the second and third day it is much tastier as all the flavors come together perfectly and bond perfectly while the soup is kept in the fridge.
More specifically, put your soup after it has cooled down in an airtight container and put it in the fridge for 4-5 days.
Oven Baked Tomato Soup with Feta
A wonderful, warm, delicious vegan tomato soup with feta cheese.
Instructions
Start by cutting the tomatoes into 4 pieces each. Cut the onions in half. Mix the tomatoes, onions and garlic with the olive oil, salt, pepper and oregano and put in the oven.

Bake at 200 C for 30-40 minutes.

Remove from the oven. Pour the ingredients into the blender along with the coconut milk and the feta cheese.

Serve with toasted bread, toasted pita or croutons.
Nutrition
Did you make the recipe too?
Upload a photo on Instagram and tag me (@emilyvagia) so I can see it too or send me a photo on Facebook. here.