We've all had potatoes with egg eyes. A classic recipe that we ate a lot in our childhood. Correctly;
So, I said to make an upgrade to the recipe and make you see it with a different eye. A! And to make it much healthier as it is made in the oven.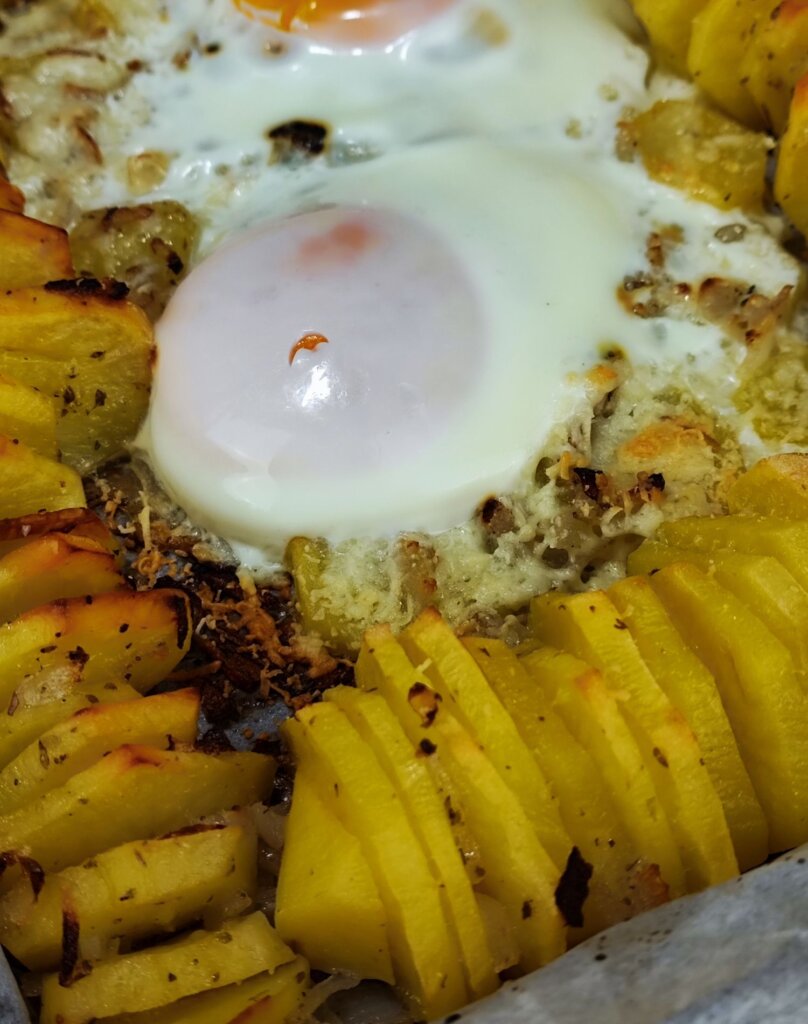 The ingredients you will need to make these potatoes with eggs are classic potatoes, eggs, onion, grated cheese of your choice and eggs. Nothing else.
If you like this recipe, you can also try one of the following:
Spaghetti Pomodoro | Classic and Traditional
Fluffly Frittata with Vegetables
Homemade Oven Baked Potato Chips
Potatoes with Eggs in the Oven
The well-known potatoes with eggs but... different!
Ingredients
4-5

potatoes

2

eggs

shedded cheese

salt, oregano

1

onion

olive oil (1-2 tbsp)
Instructions
Start by preheating the oven to 180C. Cut your potatoes into thin slices so they cook even faster.

Chop the onion. Put the potatoes, onion, a little olive oil, salt and oregano in a bowl. Mix well. In a pan, place the potatoes one behind the other until you fill the perimeter of your pan.

Spread potato slices on the bottom of the pan.

Bake for 30-40 minutes. Remove from the oven. Spread grated cheese on the bottom of the pan over the potatoes and break 2-3 eggs. Put it back in the oven for 7-9 minutes.

Your divine food is ready.
Did you make the recipe too?
Upload a photo on Instagram and tag me (@emilyvagia) so I can see it too or send me a photo on Facebook. here.