My mom had studied Italian cuisine and when I was little she made the best spaghetti pomodoro I've ever eaten.
I still remember them. Now that I write these lines, the divine taste of the most classic pasta in the world comes to mind. And the truth is that as classic as this recipe is, it is just as delicious, proving many times that the classic can be unforgettable.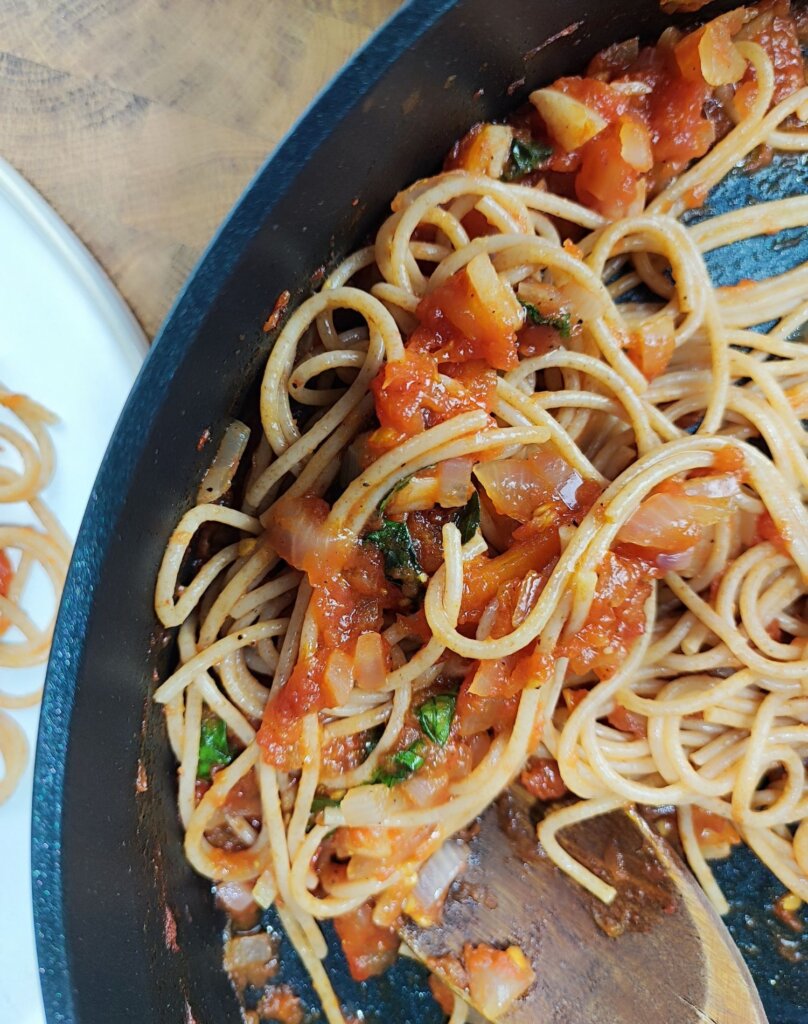 So I called her to tell me her secrets (I wanted to remember this taste by enjoying it). And I have it all here for you.
Tips
The classic recipe calls for pasta pomodoro to be made with spaghetti. In my recipe I use whole wheat spaghetti.
The traditional recipe does not contain onion but only tomato, garlic and basil. In my own recipe I also added an onion (so, because I like it and because that's how I ate this particular pasta small).
This sauce does not go into the freezer. But it goes in the fridge where you can leave it for up to 2 days.
Do not add butter to your recipe. Traditional pomodoro is made only with good quality olive oil.
The sauce needs to be boiled at a low temperature for about 1 hour. But if you don't have that much time at your disposal, you can leave it even less.
Do not add water or broth to your sauce. You don't need to.
Basil should be fresh and not dried.
Spaghetti Pomodoro
One of the most classic traditional Italian recipes that we all love.
Ingredients
300

gr.

spaghetti

olive oil 

basil 

800

gr.

tomatoes 

1

garlic clove 

salt
Instructions
Start by heating the olive oil in a pan. Add the chopped garlic and cook for 2-3 minutes. 

Grate the tomatoes. Put the tomatoes in the pan, stir, add the salt, lower the temperature and cover with a lid. Cook for 30-40 minutes. 

Uncover, throw in the basil and cook for a few more minutes. 

In the meantime, boil your pasta in plenty of salted water according to the instructions on the package. 

Drain your pasta and toss it directly into the sauce. Stir and serve with more basil. 
Did you make the recipe too?
Upload a photo on Instagram and tag me (@emilyvagia) so I can see it too or send me a photo on Facebook. here.