The most delicious apple pancakes without sugar are here!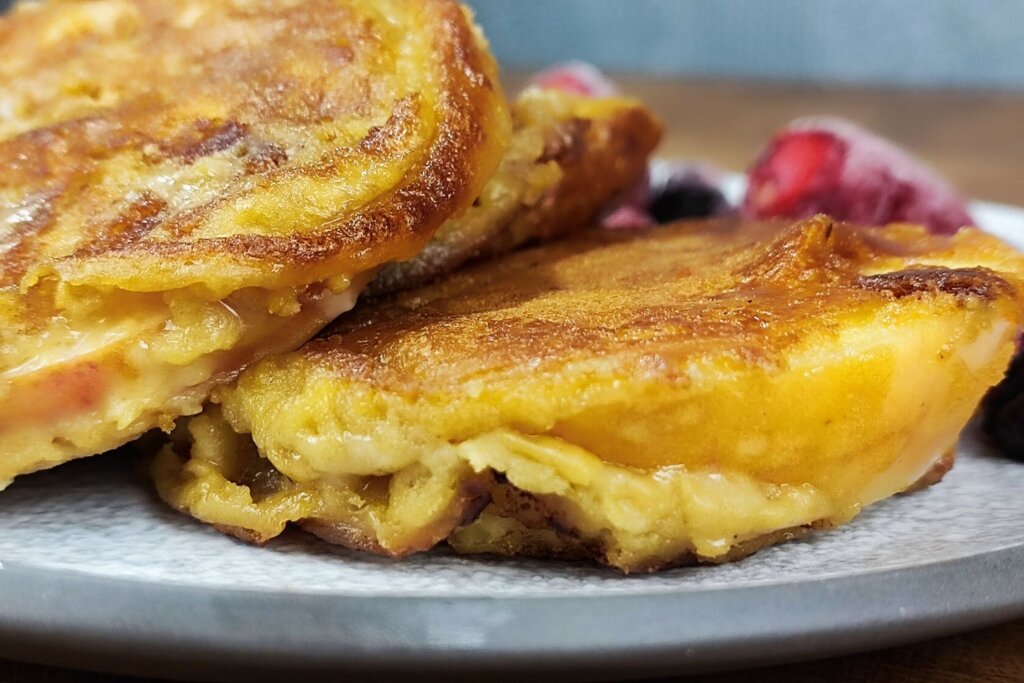 The recipe is simple, combines pancakes with apple and creates a new addiction.
The process to make them is very simple. Make the mixture for pancakes, cut two apples into slices, dip them in the mixture for pancakes and bake them in a non-stick pan as you usually do to make your pancakes.
Από πάνω μπορείτε να ρίξετε ζάχαρης καρύδας με κανέλα ή υποκατάστατο άχνης και φυσικά να σερβίρετε με maple syrup.
If you like this recipe you can try some of the following:
Vegan french toast | Έτοιμα σε 5′
Churro baked oat muffins | Χωρίς ζάχαρη
Apple Pancakes Sugar Free
Νόστιμα, εύκολα pancakes χωρίς ζάχαρη με μήλο που θα λατρέψετε να φτιάχνετε και να τρώτε για πρωινό.
Ingredients
for the pancake mixture
40

gr.

flour

40

gr.

πρωτεϊνης βανίλιας

2

tsp

baking powder

1

egg

λίγο γάλα (μέχρι να γίνει σαν χυλός το μείγμα)
other ingredients
2

apples

cut in slices

1

tbsp

peanut butter or other nut butter

υποκατάστατο άχνης για το σερβίρισμα
Instructions
Ξεκινήστε ανακατεύοντας όλα τα υλικά για το μείγμα pancakes.

Κόψε τα μήλα σε φέτες. Άλειψε κάθε φέτα με φυστικοβούτυρο και βούτα την κάθε φέτα στο μείγμα για pancakes.

Ψήσε στο αντικολλητικό τηγάνι. Άφησε για 2 λεπτά και γύρισε από την άλλη μεριά προσεκτικά. Κάνε το ίδιο με όλα τα pancakes σου.

Ρίξε από πάνω αν θέλεις υποκατάστατο άχνης ή απόλαυσε τα pancakes σου με μέλι και καρύδια.
Did you make the recipe too?
Upload a photo on Instagram and tag me (@emilyvagia) so I can see it too or send me a photo on Facebook. here.