I imagine it has happened to you to want something sweet even at the most "inappropriate" times of the day. This is my midnight snack that I make whenever I want something sweet late at night (or any time of the day).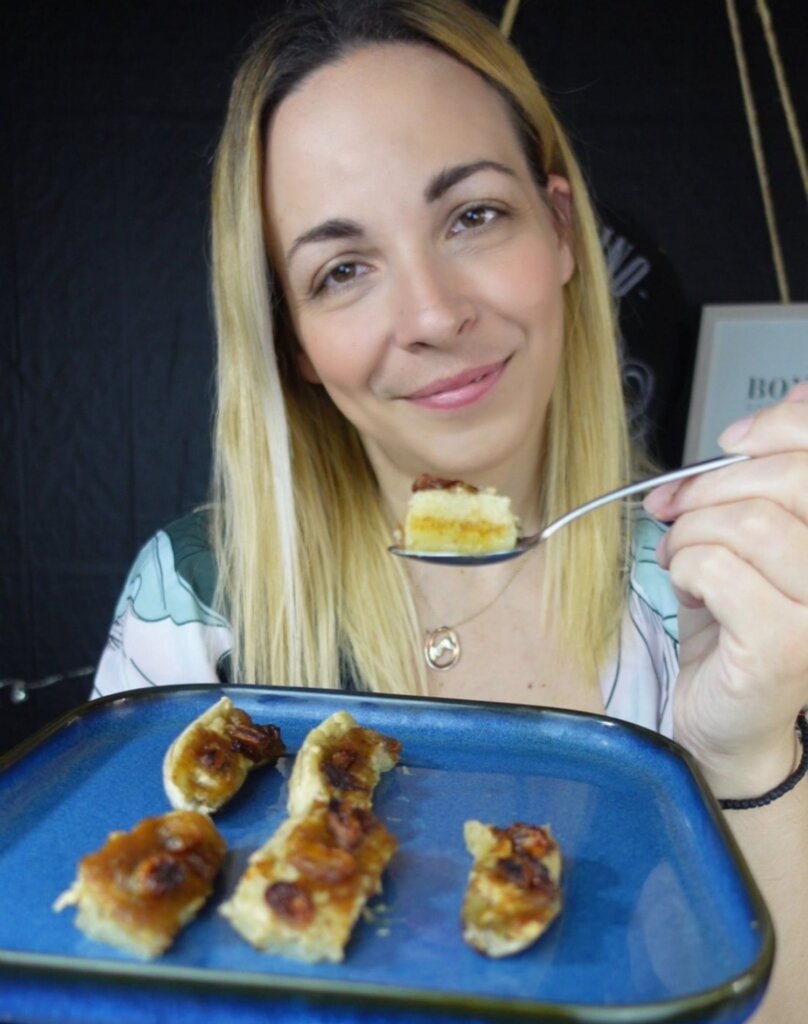 Once again I will give you two alternatives. One will be with a sugar substitute and the second without any substitute . I don't eat sugar at all and I make these sweet snacks in two alternatives for Alex and I.
The main ingredients I use in both recipes are banana and tahini. From then on, in one recipe, I also add grated stevia couverture. In the #sugarfree and #sugarsubstitutefree recipe I add date spread and some raisins for extra sweetness.
Tips
Instead of tahini, you can use peanut butter or another nut butter.
While you are preparing your recipe, preheat your oven so that it is ready to bake when your ingredients are ready.
If you like this recipe, you can also try one of the following:
Sweet Midnight Snack | Sugar free
Sugar Free Snickers | 5 Ingredients
The 3-Ingredient Sweet Snack I Make Every Week
Midnight Sugar Free Snack
It's just perfect and you have to try it.
Ingredients
for the sugar free version
1

piece

sugar free chocolate
for the sugar substitute free version
Instructions
All you have to do is cut the bananas horizontally in half. Empty them with a spoon so that a "groove" is created.

For the first version, spread tahini on the banana and pour the grated couverture on top.

For the second version, mix the tahini with the date spread. Spread the banana and sprinkle some raisins on top.

Put in the oven and bake for 8 minutes at 180 degrees.

Eat it with a spoon. It is simply divine.
Did you make the recipe too?
Upload a photo on Instagram and tag me (@emilyvagia) so I can see it too or send me a photo on Facebook. ..