Snickers without sugar, full of protein, made with only 5 ingredients.
It is one of the recipes I first made when I first cut out sugar to have a dessert in the fridge since I get hypoglycemia now and then.
In my snickers - the ones that only I eat at home - I don't use chocolate. In the rest - the ones I make for the men of the house as well as for my friends - I also put sugar free chocolate on the outside.
The recipe is very simple, requires no cooking and my snickers are truly a sweet superfood.
To make them you will need: cooked chickpeas (I use ready-made, boiled, from a can), peanut butter (or some other nut butter), dates, oats and nothing else.
Beat all the above ingredients in the food processor. You form 6 snickers and then dip them in the melted chocolate.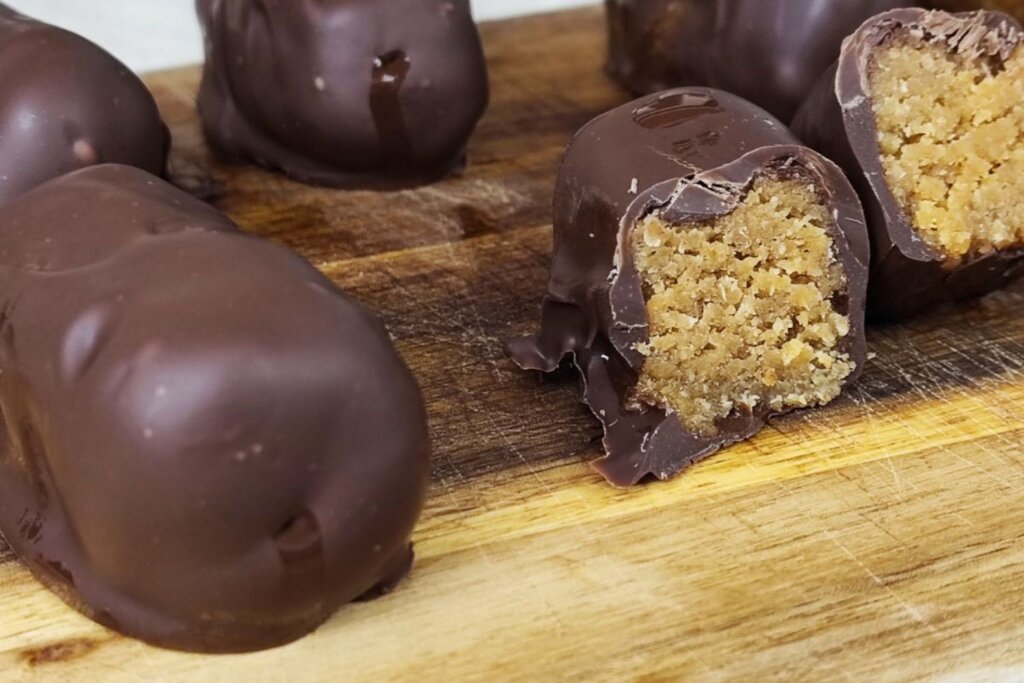 If you like this recipe, you can also try one of the following:
Sugar Free Cinnamon Cookies | with 6 ingredients
7 Sugar Free Desserts Without Chocolate
Halvas with 4 Ingredients | Sugar Free
The products I used in this recipe are from Vasilopoulos. If you click on each material, you will find the exact product that I put in the specific recipe.
Sugar Free Snickers with 5 Ingredients
The healthiest, most delicious, sugar-free snickers are here.
Instructions
Start by soaking the dates in boiling water for 20 minutes.

Pour the oat flour into the food processor. Add the chickpeas, peanut butter and dates.

Remove from the blender and form 10 snickers.

Put the snickers in the fridge for 30 minutes.

Dip the snickers into the chocolate. Put them back in the fridge for 1-2 hours before enjoying them.
Nutrition
Did you try this recipe too?
Upload a photo on Instagram and tag me (@emilyvagia) so I can see it too or send me a photo on Facebook ..