The easiest, vegan tomato soup with feta cheese in a hot version, ideal for this season.
Made with tomatoes and cherry tomatoes, onion, garlic, feta cheese and coconut milk.
Tips and Substitutions
If you are not vegan you can replace the vegan feta with classic feta.
You can use only tomatoes or only cherry tomatoes in your recipe. I personally used both.
If you don't like coconut milk you can use almond milk.
If you like this soup you can also try some of the following:
Vgean Pumpkin Soup with Oven Baked Veggies
Vegan Oven Baked Soup | 211 Calories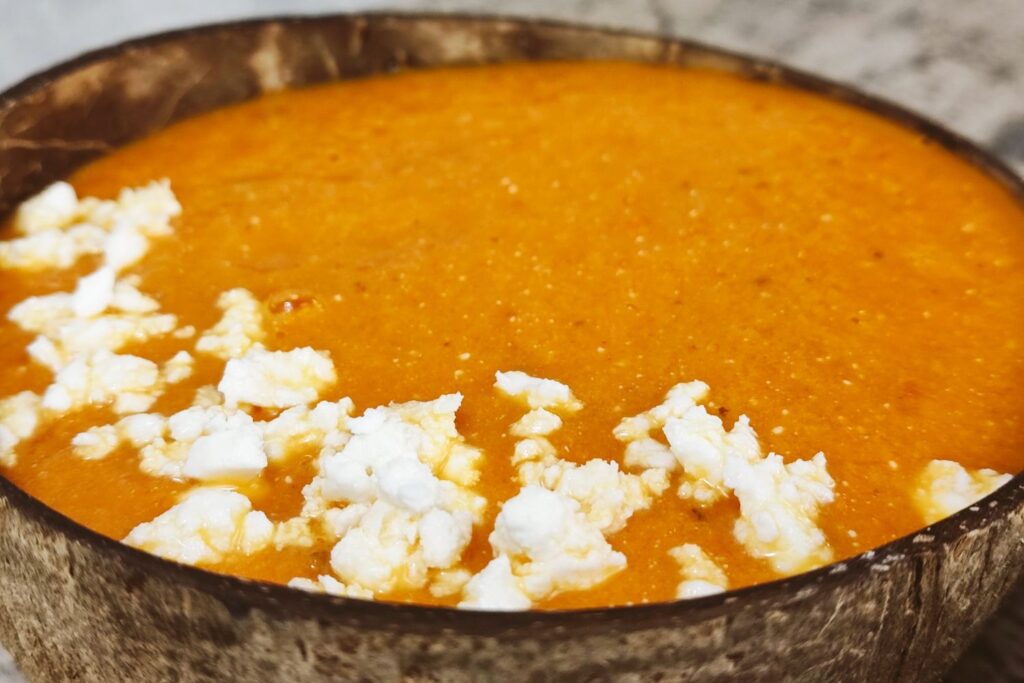 Tomato Soup with Feta Cheese
A wonderful, warm, delicious vegan tomato soup with feta cheese.
Instructions
Start by sauteing the onion and garlic in olive oil for 2-3 minutes. Add the tomatoes after cutting them into pieces. Stir.

Pour in the spices and water.

As soon as it comes to a boil, turn down the heat and cook for 20-25 minutes at medium temperature.

Pour the mixture into the blender and add the coconut milk and feta.

Whip and serve with toasted bread or pita bread.
Nutrition
Did you try this recipe too?
Upload a photo on Instagram and tag me (@emilyvagia) so I can see it too or send me a photo on Facebook ..