I'd say these protein-packed cauliflower "steaks" are somewhere between a steak and a pizza.
However, what matters is not what you call them, but what their taste is, and I guarantee you that it is divine. It will make you see cauliflower with a different eye and taste it in a different, special way.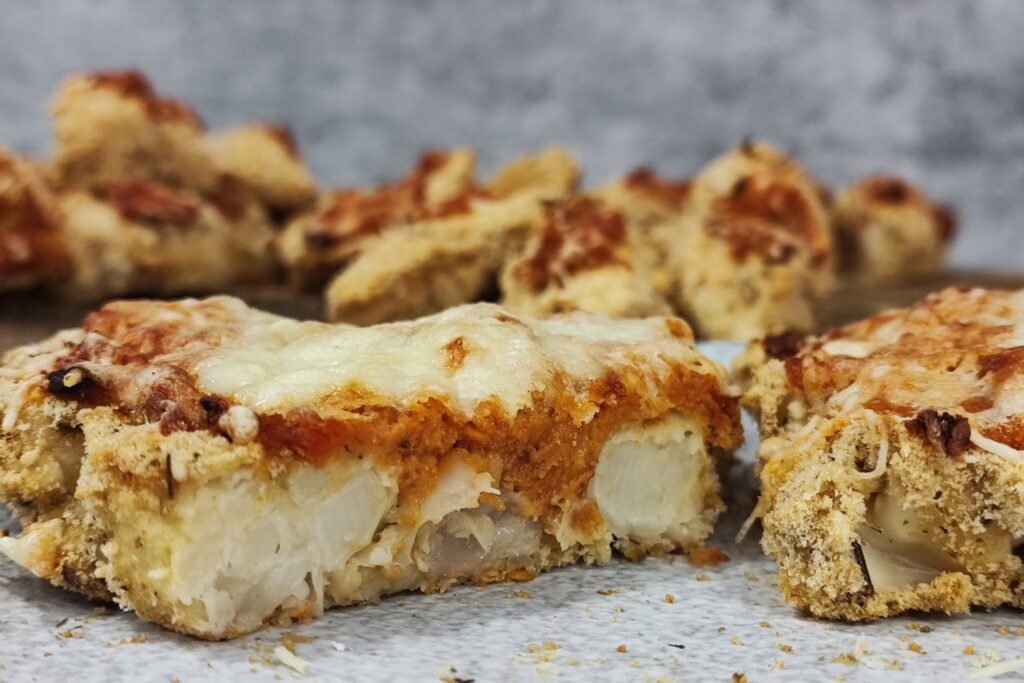 What ingredients will you need to make the most delicious, healthy cauliflower steaks?
A large cauliflower (which yields 4 cutlets and several smaller florets which you will make into cauliflower bites), all-purpose or oat flour, almond milk (or milk of your choice), breadcrumbs, spices (it's one of the secrets to the "steaks" become delicious).
A little later after the steaks and cauliflower bites have been cooked for a while you will need tomato sauce which you will prepare in seconds with ketchup, vegan sunflower protein Amino Animo which has no taste but adds nutritional value to food and spices. And finally, the grated cheese will make the steaks even better.
Tips and Substitutions
Instead of almond milk that I used you can use milk of your choice.
Oat flour can be substituted for all-purpose flour.
Instead of breadcrumbs you can use any grated nut such as almond, walnut, peanut, hazelnut or whatever you want and like.
In place of the Amino Animo Sunflower Plant Protein you can use any Amino Animo Plant Protein you like as they have no taste and will not change the taste of your food.
If you like this recipe you can try some of the following:
White Bean Balls | 56 Calories Each
Lentil Bolognese | Freezer Friendly Meal
Comfort Pasta with Oven Baked Pumpkin Sauce
Quesadilla with Kidney Beans | 15' Meal
Protein Cauliflower Steaks
These steaks will make you look at cauliflower in a different way.
Ingredients
1

cauliflower

vegan shredded cheese
for the first mixture
1

cup

almond milk

3/4

cup

flour

2

tsp

salt

pepper

paprika

oregano

thyme
for the second mixture
1

cup

breadcrumbs

garlic

salt

spice mix
Instructions
Start by slicing the cauliflower. Whatever is left, cut it into small pieces.

In a bowl, mix the milk with the flour and the rest of the ingredients for the first mixture. In a second shallow dish, put the ingredients for the second mixture.

Dip the steaks first in the first mixture and then in the second. Transfer to a baking sheet lined with non-stick paper. Do the same with all the steaks and all the bites.

Bake in preheated oven at 180C for 15 minutes. Meanwhile prepare the tomato sauce.

In a bowl, mix the ketchup, the vegetable protein, a little water and the remaining ingredients for the sauce. Spread it on each steak and each bite.

Pour grated cheese and put back in the oven for another 15 minutes.

Cauliflower steaks are ready.
Did you try this recipe too?
Upload a photo on Instagram and tag me (@emilyvagia) so I can see it too or send me a photo on Facebook here.