Now that the weather is slowly getting colder a soup is the perfect meal. I personally love soups (that's why I named my blog Mrs Soupe) and you'll be seeing a lot of them on this blog this winter.
*The recipe was first made in October 2020. The recipe and photos were updated in September 2022.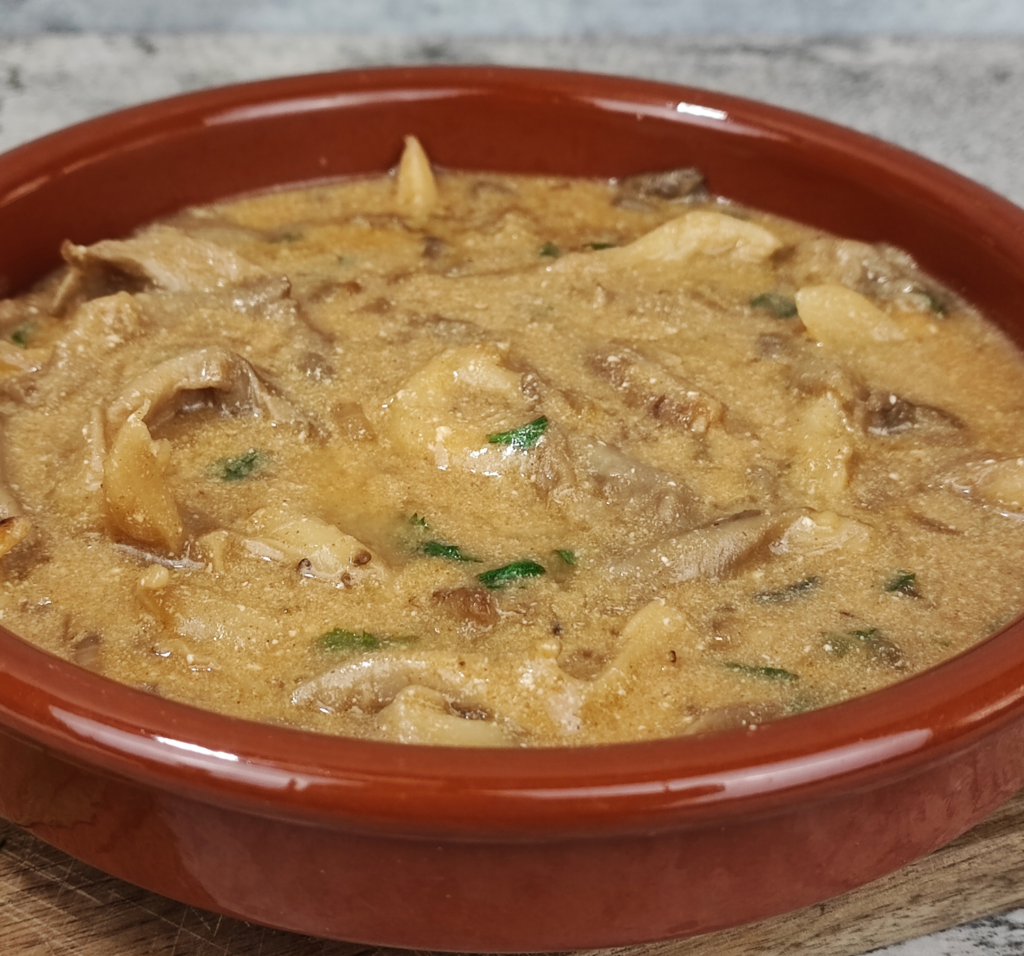 This particular Hungarian mushroom soup is perfect in many ways.
1. It is ready in 20'.
2. It is light. The serving has only 192 calories.
3. It essentially contains only mushrooms which are super nutritious.
4. If you like mushrooms as much as I do, you can make double the amount of mushroom soup and eat it for lunch and dinner for 3-4 days.
5. It can be put in the freezer in an airtight container that closes well and stay there for up to 3 months. Thaw it well before heating it.
Tips and Substitutions
If you are not vegan instead of coconut oil you can use butter and instead of soy yogurt, regular yogurt.
Eat it with...
Personally, I'm crazy about eating it as it is without any side dishes. But you, if you want, can accompany it with a slice of toasted bread, with some breadsticks like these.
Light Mushroom Soup
The most delicious Hungarian mushroom soup you've ever eaten. You must try it.
Ingredients
2

tbsp

coconut oil

1

onion

500

gr.

mushrooms of your choice

(I prefer Shiitake mushrooms most of the time)

3

tbsp

flour

2

tsp

sweet paprika

(hungarian if you have)

1/2

cup

white wine

500

ml

vegetable broth

2

tbsp

soy sauce

3

tbsp

soy yogurt

3

tsp

dill

1/2

lemon

salt and pepper

1 1/2

tbsp

parsley
Instructions
Start by pouring the coconut oil into a saucepan. Once melted add the onion.

As soon as it takes color, throw in the mushrooms cut into strips. Once they soften a little, add the flour and paprika.

Stir and add the wine. Once absorbed, pour in the vegetable stock and soy sauce.

Allow your soup to thicken a little at a moderate temperature, retrieving it now and then.

Set aside. Wait for it to cool slightly and pour in the yogurt. Add the dill, lemon, salt and pepper. Add the parsley too. Your soup is ready to serve.
Nutrition
Did you try this recipe too?
Upload a photo on Instagram and tag me (@emilyvagia) so I can see it too or send me a photo on Facebook ..