A delicious pasta that you'll want to make again and again because it's packed with nutrients that no one (even picky eaters) will find out.
My son Max is very picky about what he will eat. He does not eat green vegetables (and in general anything green), he does not eat peas, tomato, onion and of course garlic. But he doesn't just eat this particular pasta. He eats it with great appetite and joy even though it contains everything he does not like.
Some will say that it is not right to hide vegetables in food and to "deceive" our children in such ways (I have been told so, that's why I mention it). I will tell all of them to mind their own business. I will hide as many vegetables as I want in my child's food now that he is still young and does not understand their value and the reasons he should eat them.
Tips and Substitutions
Personally, this time I used pasta with vegetables that I had brought from Pelion. You can use any kind of pasta you want.
If you don't have peas, add any other vegetable you have. Carrots can also be added to the recipe.
You can add some coconut milk to the blender along with your vegetables.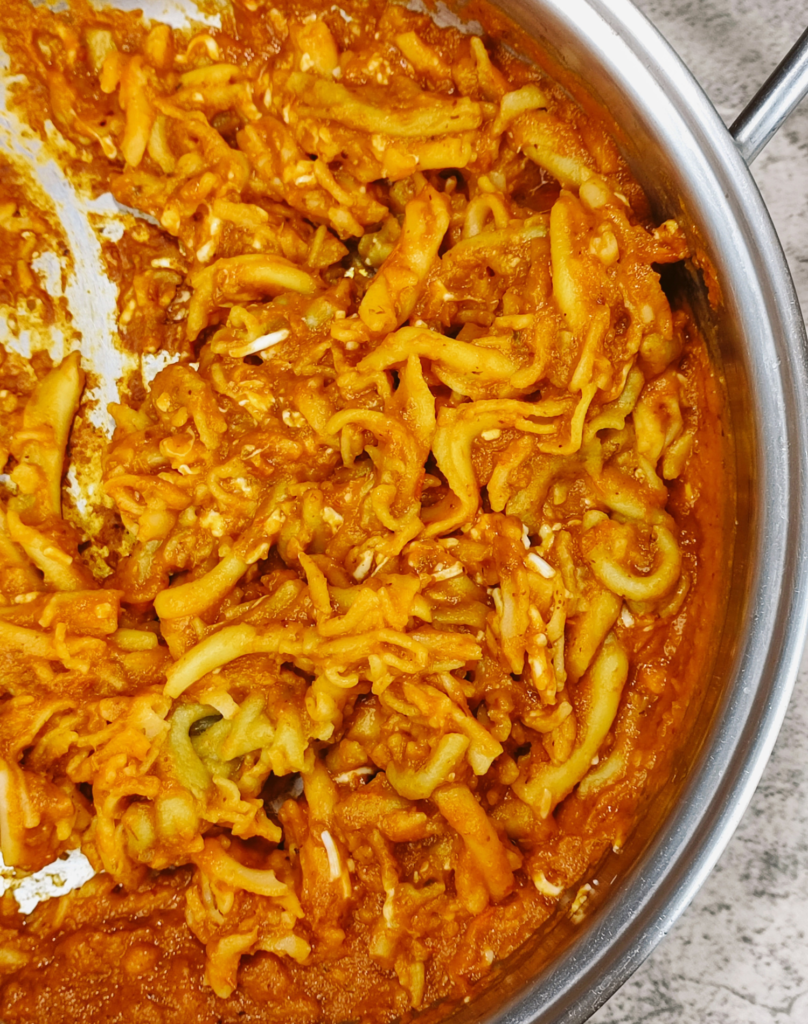 If you like this recipe you can try some of the following:
Baked Pasta with Vegan Feta, Cherry Tomatoes and Peas
Vegan Spaghetti with Raw Tomato-Avocado Sauce
Pasta with Hidden Veggies
It is divine, full of nutrients and delicious.
Ingredients
340

gr.

raw pasta of your choice

1

tbsp

olive oil

4

small tomatoes

1

red pepper

1

onion

4-5

garlic cloves

2

zucchini

3/4

cup

frozen peas

salt

oregano

black pepper
Instructions
Start by spreading all the vegetables on a baking sheet. Add salt, pepper and oregano and a little olive oil. Bake at 180 C for 40 minutes. Meanwhile, boil your pasta in salted water.

Drain your pasta and set aside.

Put all the vegetables in the blender and beat them with 1 tbsp. olive oil. If you want you can avoid it.

Pour your delicious sauce into a pot and add your pasta. Stir and serve.
Nutrition
Did you try this recipe too?
Upload a photo on Instagram and tag me (@emilyvagia) so I can see it too or send me a photo on Facebook ..