Is it summer without zucchini meatballs? It is the standard appetizer that most of us order in taverns, especially during the summer months.
*The recipe was first made in September 2020. The recipe and photos were updated in July 2022.
So, you can make them at home much lighter since the following recipe is for baked zucchini meatballs.
Μπορείτε να χρησιμοποιήσετε κάτι άλλο εκτός από αλεύρι βρώμης για τους κολοκυθοκεφτέδες φούρνου;
Μπορείτε να χρησιμοποιήσετε εκτός από βρώμη και ό,τι αλεύρι θέλετε. Μπορείτε να βάλετε κλασικό λευκό αλεύρι, αλεύρι αμυγδάλου αλλά και αλεύρι από ρεβύθια. Η επιλογή είναι δική σας. Αντικαταστήστε το 1/2 φλ. αλεύρι βρώμης με 1/2 φλ. αλεύρι της επιλογής σας.
The differences in texture and taste are very small.
Can you freeze zucchini meatballs?
You can keep them in the freezer for up to 3 months. When you want to eat them, just take them out of the freezer and heat them in the oven or in the toaster.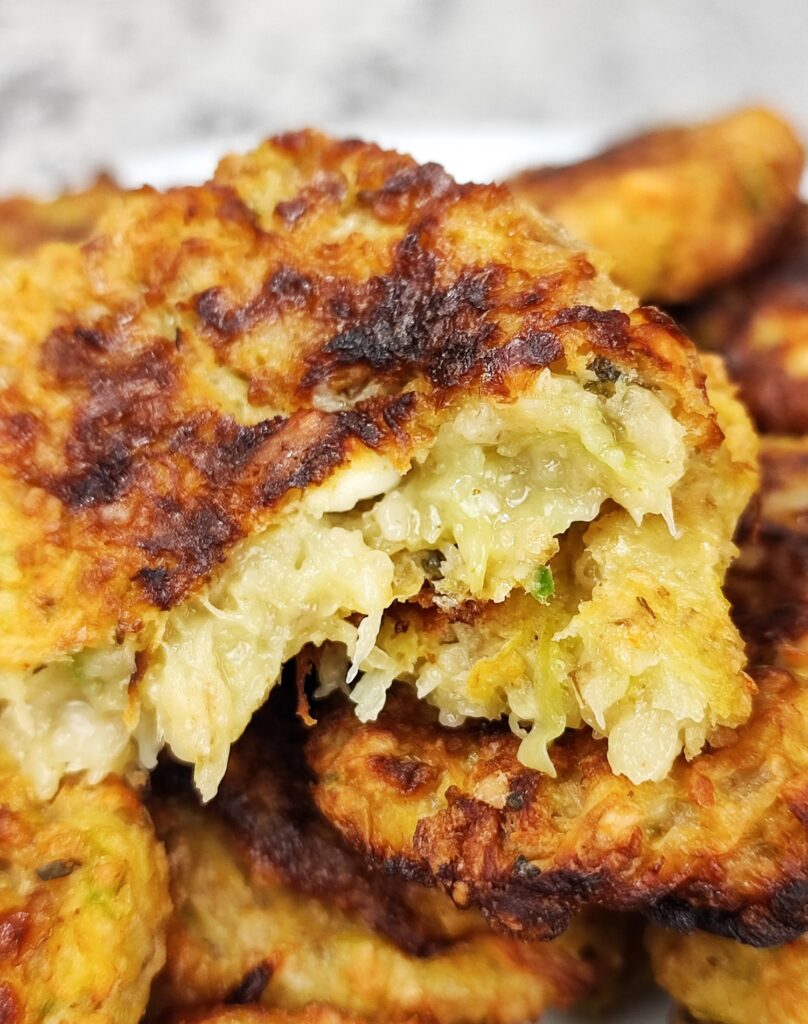 If you don't like dill what can you put in?
Dill goes very well with zucchini. But if you don't like it, you can add mint, parsley or any other herb you like.
Can you leave out the egg in your recipe?
You can skip the egg.
Tips
Instead of vegan feta you can use feta of your choice.
The best way to make your eggless zucchini meatballs is to put the ingredients after mixing them in the fridge for 1-2 hours. Then you can take them out of the fridge, shape your meatballs and bake them normally.
Each meatball has 26 calories.
Νote: These zucchini meatballs don't get too crispy. Therefore they are perfectly eaten both hot and cold.
Oven Baked Zucchini Balls
The most delicious, light, vegetarian and vegan zucchini meatballs (if you don't add some kind of cheese and eggs) you've ever eaten. Not a crumb will be left.
Ingredients
4

zucchini

1

tsp

salt

1/4

tsp

black pepper

1

garlic clove

1

onion

1

tsp

baking powder

1

egg (if you want)

3/4

cup

oat flour

1/2

cup

vegan feta (or feta cheese of your choice)
Instructions
Start by blitzing the zucchini in the blender. Squeeze them with your hands so that they don't have much liquid.

Put the onion and garlic in a bowl. Add the egg and mix.

Ρίξτε στο μπολ το κολοκύθι, το αλεύρι βρώμης, το αλάτι, το πιπέρι, τη φέτα και το baking powder.

Preheat the oven to 200C. Spread a piece of non-stick paper on a baking sheet. Using a spoon, make zucchini meatballs and place them in the pan.

Bake at 200C for 12-15 minutes on one side and another 12-15 minutes on the other side.

Remove from the oven and enjoy your meatballs.
Nutrition
Did you try this recipe too?
Upload a photo on Instagram and tag me (@emilyvagia) so I can see it too or send me a photo on Facebook here.