The most delicious savory baked pancakes for those of you who love savory breakfasts.
We may be used to eating our pancakes in a sweet version but their savory version is amazing. Because I personally love savory more than sweet breakfast, this savory baked pancake is one of my favorite breakfasts.
Make it today and you will have breakfast for 2-3 days. How perfect is that?
What vegetables you choose to put on your pancake is your decision and choice. In mine I chose to put green pepper, onion and cherry tomatoes while I must emphasize that this recipe does not contain flour but is made with oats. All the nutrients… in your breakfast!
If you like this recipe you can try some of the following:
Vegan scrambled eggs | Full of Protein
Tips and Substitutions
Instead of vegan feta that I used in my recipe you can put cheese of your choice or no cheese if you wish.
You can make the oat flour by yourself by simply beating the oat flakes in the blender. It's very easy.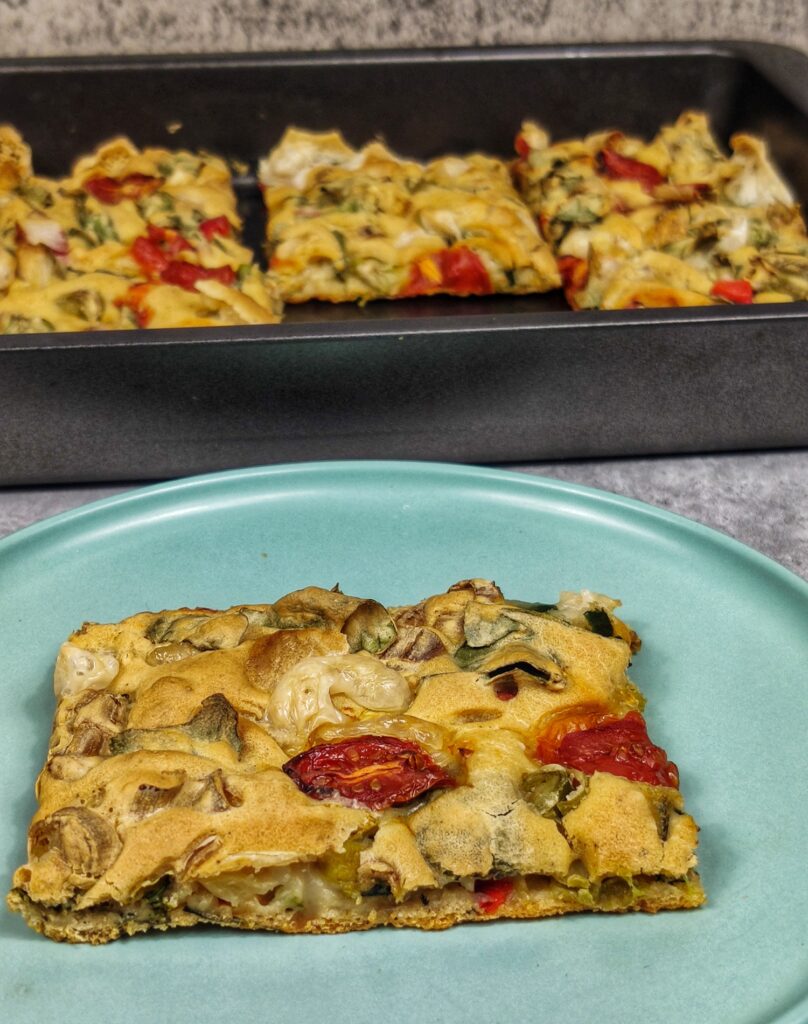 Savory Oven Baked Pancakes with Veggies
The perfect savory breakfast that you can eat for 2-3 days.
Ingredients
2

tbsp

flax seeds 

5

tbsp

water 

1

cup

almond or oat milk

80

gr.

oat flour 

1

tsp

baking powder

1/2

tsp

salt 

black pepper 

cherry tomatoes 

green pepper 

1

onion 

vegan feta (if you want)
Instructions
Start by soaking the flaxseed in water. Set aside for 10 minutes. 

In a bowl, mix the flaxseed as soon as it is soaked in the almond milk. Add the oat flour, baking powder, salt, black pepper. Mix and set the dough aside to rest for 15 minutes. 

Preheat the oven to 200C. Grease a pan with olive oil. Pour the dough into the pan and add all the vegetables on top. If you want, add feta cheese. Bake for 20-25 minutes. 

Remove from the oven, allow the pancake to cool and serve. 
Nutrition
Did you try this recipe too?
Upload a photo on Instagram and tag me (@emilyvagia) so I can see it too or send me a photo on Facebook ..