The easiest, fastest, vegan oven-baked pasta with pesto and vegetables made in one pot.
This pasta dish does not want much while the fact that you only need one pot to prepare it means that you will not have much dishes to wash afterwards.
This pasta makes even healthier this dish.
Tips and Substitutions
Instead of eggplant and pepper you can use vegetables of your choice. Broccoli, asparagus, spinach also go amazingly well with pesto.
Είναι πολύ σημαντικό να ψιλοκόψετε τα λαχανικά σας για να ψηθούν τέλεια μαζί με το πενάκι.
If you are not vegan you can use parmesan in your recipe.
Η συνταγή γίνεται επίσης τέλεια με ψημένα λαχάνικα που σας έχουν μείνει από προηγούμενη μέρα.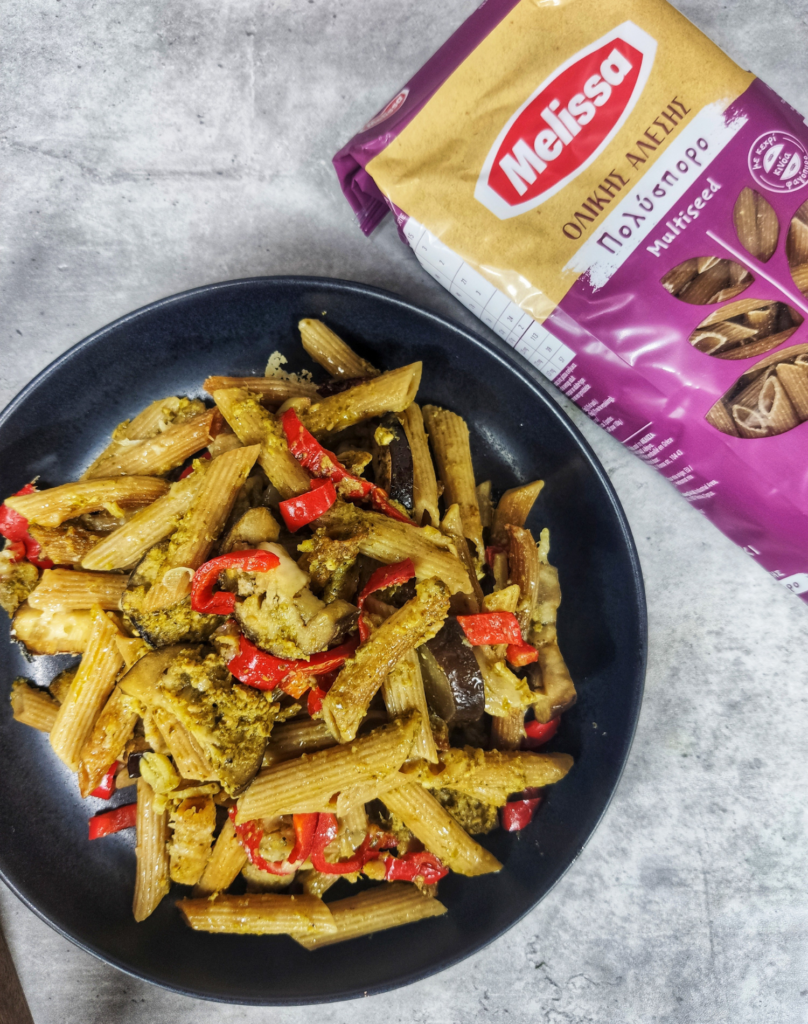 If you like this recipe then you can try some of the following:
Vegan One Pot Pasta with Eggplants
10 minute Pasta | Light & Healthy
Oven Baked Pasta with Veggies and Vegan Cheeses
Vegan Oven Baked Pasta with Pesto and Veggies
A divine baked pasta that you will love to make over and over again.
Ingredients
380

gr.

penne

4

cup

vegetables of choice (eggplant, mushrooms, peppers etc)

(πρέπει να είναι αρκετά ψιλοκομμένα για να ψηθούν τέλεια)

2/3

cup

vegan shredded cheese 

6

tsp

πέστο βασιλικού 

2

tsp

garlic 

3

tbsp

olive oil 

salt

νερό μέχρι να σκεπαστούν τα ζυμαρικά
for the pesto
2

cup

basil

3

tbsp

pine nuts or walnuts

3

big garlic cloves

2

tbsp

lemon juice

3-4

tbsp

nutritional yeast (or vegan shredded cheese)

1/4

tsp

salt

2-3

tbsp

olive oil

3-6

tbsp

water
Instructions
For the pesto, add your ingredients to the blender and beat them all together. If you want your pesto to be thinner, add a little more water. Try and see if you need more salt.

Για την μακαρονάδα ξεκινήστε ρίχνοντας το πενάκι σε ένα ταψάκι. Προσθέστε τα λαχανικά σας αρκετά ψιλοκομμένα, το σκόρδο, αλάτι και νερό και βάλτε στον φούρνο. Ψήστε για 25 λεπτά στους 180 βαθμούς. Στα μισά του χρόνου ανακατέψτε.

Remove and add the pesto and olive oil. Stir. Add the cheese and put back in the oven for another 10 minutes. 
Nutrition
Did you try this recipe too?
Upload a photo on Instagram and tag me (@emilyvagia) so I can see it too or send me a photo on Facebook ..