A simple salad that you will want to eat every day. This is a vegan bean salad that is made with simple ingredients but is super tasty.
Cooking tip: A very easy, fast and economical way to always have ready-cooked beans for various recipes, is the one I have here.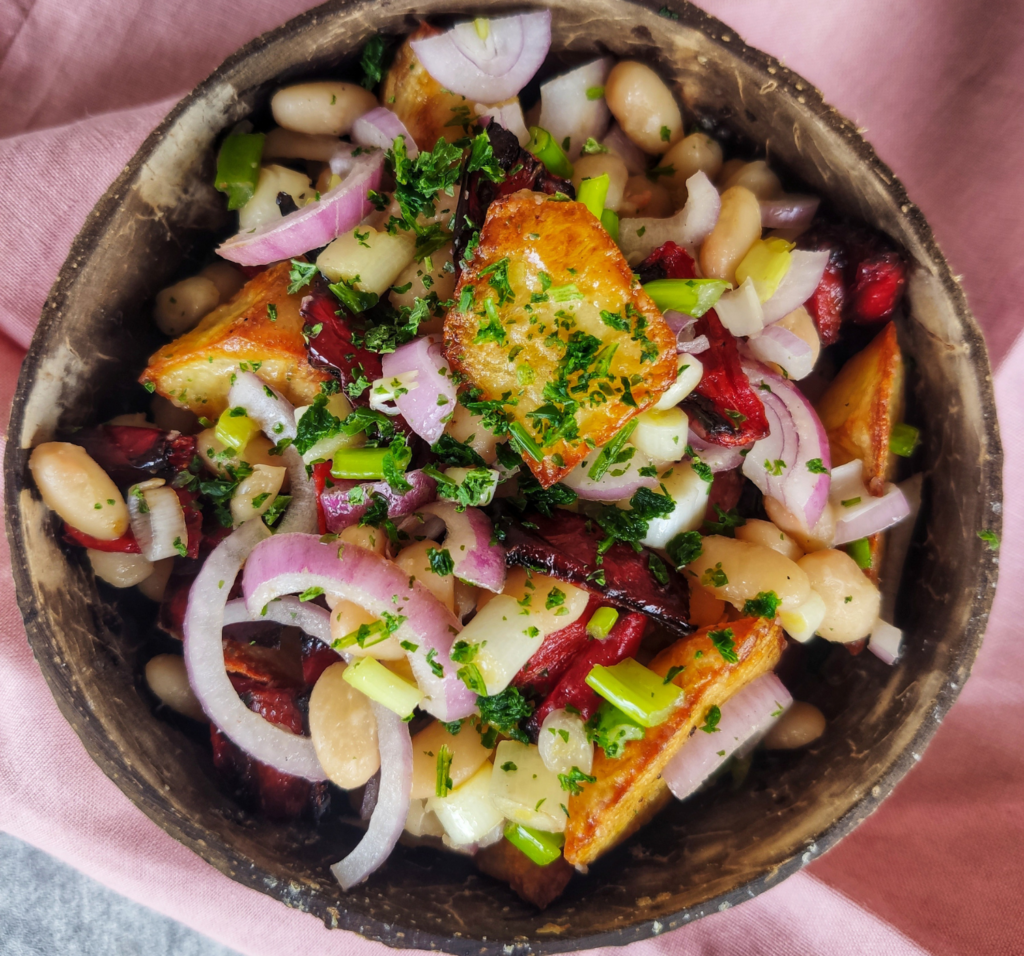 Personally, what he has been doing for several years is this: I boil a whole bag of beans by opening it in the simplest, most classic way. I simply boil them in salted water for as long as it takes until they get soft.
Then, after they cool I put them in jars and store them in the freezer to have them ready for other more interesting, special recipes. So, when I want to make a recipe with beans, I take out a jar in the evening and the next day I make the recipe I want.
The basic ingredients of bean salad
Except for the beans for this salad you will need potatoes, red pepper, fresh and dried onions, parsley, grated yellow vegan cheese of your choice, salt and olive oil.
In fact, if you have your beans ready, the whole process will take you 25 minutes.
---
Videos you may also like:
---
Tips and Substitutions
Instead of beans of course you can make the same salad with another legume of your choice such as lentils, chickpeas, red beans, black beans or whatever you want.
If you are not vegans you can use parmesan instead of vegan yellow cheese.
If you like this recipe you can try some of the following:
Asian Salad with Noodles and Carrot Dressing
Salad with couscous, veggies and red pepper sauce
Detox Quinoa and Red Lentil Salad
Vegan White Bean Salad
The easiest bean salad you will love to eat.
Instructions
Start by spreading the peppers and potatoes in a pan. Add a little olive oil, salt and pepper and cook for about 25 minutes. Peppers may want less.

Meanwhile, in a bowl, add the onions, fresh and dried, the parsley, the boiled beans, the peppers and the potatoes and the grated cheese (if you choose to add). Add a little olive oil and salt, mix and enjoy.

If you do not have ready-cooked beans you should start by boiling your beans in salted water for as long as it takes until they soften.
Nutrition
Did you try this recipe too?
Upload a photo on Instagram and tag me (@emilyvagia) so I can see it too or send me a photo on Facebook here.