A healthy, easy, light meal that you can make whenever you want something delicious but very very nutritious for lunch or dinner. Cauliflower with potatoes and an amazing mustard-tahini sauce that will excite you.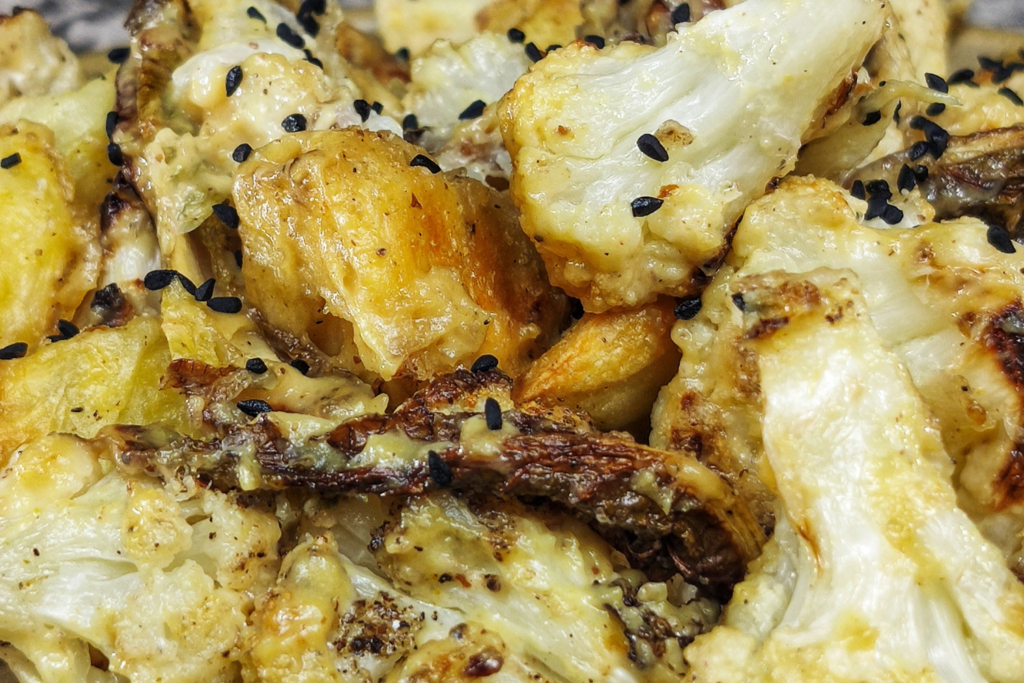 This is a very easy #zerofoodwaste recipe where we use the whole cauliflower and its leaves.
You can, of course, combine cauliflower with some other carbohydrate such as pasta and rice. Put it in tortillas or sandwiches or eat it aw it is as a healthy main course.
If you like this recipe with cauliflower then you can also try the following:
Popcorn Cauliflower | The perfect side dish
Cauliflower risotto with mushrooms | 285 calories
Buffalo cauliflower wings | Super crunchy
Tips
If you are not vegans you can use honey instead of maple syrup in your sauce.
Cut all the vegetables at the same size so that they are cooked evenly. If your potatoes need a little more cooking after 25 minutes, take out the cauliflower and leave them for a while longer.
This recipe can be eaten as a main course by 2 people or as a side dish by 4 people.
Cauliflower with potatoes and mustard-tahini sauce
A wonderful, light and super nutritious recipe for lunch or dinner.
Ingredients
for the tahini-mustard sauce:
Instructions
Start by preheating the oven at 200C.

Put the cauliflower bouquets and potatoes in a bowl. Add the olive oil, corn flour, salt and black pepper. Mix well and spread everything in a pan.

Bake for 25 minutes. Meanwhile, make the tahini sauce. In a bowl, mix all the ingredients for the sauce. You may also need some water to make it slightly thinner. Once your vegetables are done, mix them with the sauce.

Top with a little sesame seeds if you want. Enjoy.
Nutrition
Did you try this recipe too?
Upload a photo on Instagram and tag me (@emilyvagia) so I can see it too or send me a photo on Facebook here.