An incredible Asian salad with noodles and carrot dressing that is much better than the salads we eat out.
This feeling that I have every time I eat a delicious salad is amazing. I feel that I nourish my body. This recipe does exactly this.
This is a salad-full meal inspired by Asia. It contains noodles that most of us love, colorful vegetables and a divine carrot dressing that is full of nutrients and does not contain any oil.
Make it and enjoy it immediately or put it in a jar and take it to the office. You will go crazy no matter when you eat it.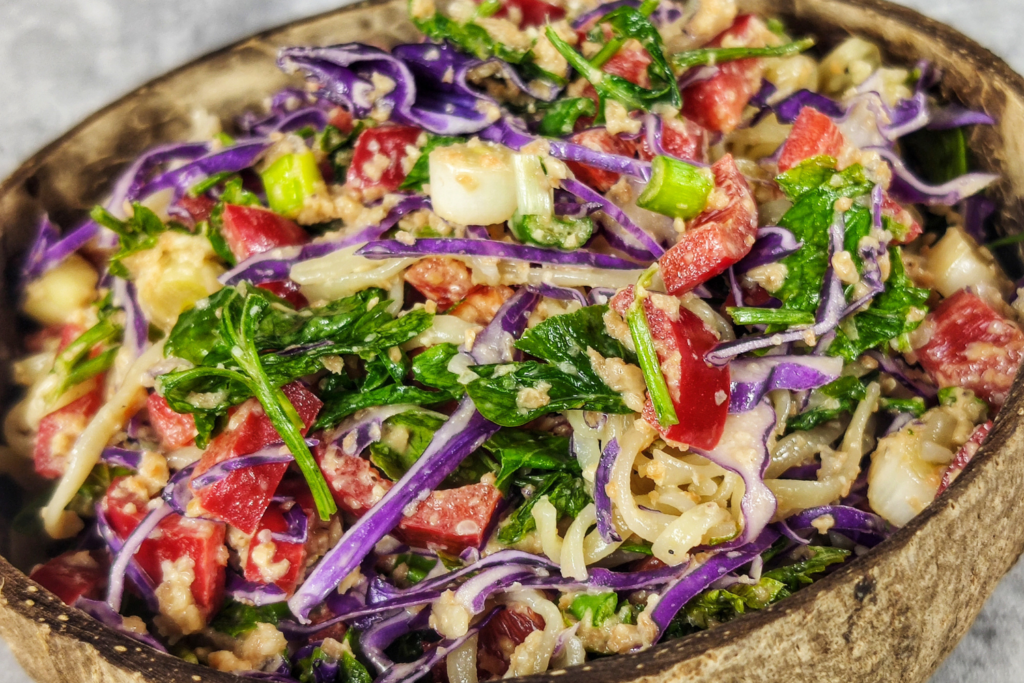 If you like this salad then you should try the following:
Salad with couscous, veggies and red pepper sauce
Warm salad with arugula, sweet potatoes and mushrooms
Detox Quinoa and Red Lentil Salad
Asian Salad with Noodles and Carrot Dressing
A very easy, quick salad that will fill you with nutrients.
Ingredients
for the salad
1

scallion

1

cup

purple cabbage

1

carrot

1

cup

parsley

170

gr.

noodles of your choice
Instructions
To make the dressing, simply beat all the ingredients in the blender. Add water 1 tbsp. at a time until you reach the desired texture.

Put your noodles in boiling salted water and cook them according to the instructions on the package. Mine took 4 minutes.

In a bowl, mix all the vegetables with the noodles and the dressing and enjoy the perfect salad.
Nutrition
Did you try this recipe too?
Upload a photo on Instagram and tag me (@emilyvagia) so I can see it too or send me a photo on Facebook ..