Couscous with vegetables and red pepper sauce! Just wonderful and ready in 15 minutes!
This salad is the ultimate winter dish you will love to eat. It is light, very easy and takes just 15 minutes to prepare.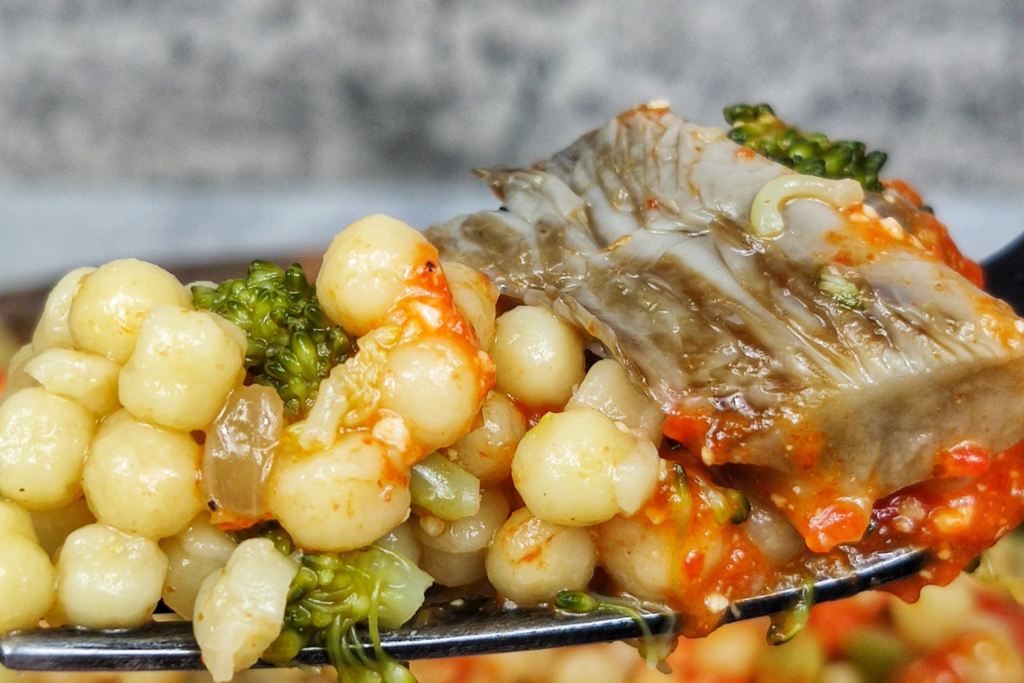 Tips and Substitutions
Instead of broccoli and mushrooms you can put whatever vegetables you want in your couscous.
If you want you can skip the pepper sauce add another sauce of your choice.
If you like this recipe you can try some of the following:
Warm salad with arugula, sweet potatoes and mushrooms
Detox Quinoa and Red Lentil Salad
Thai Quinoa Salad with Peanut Sauce
Salad with couscous, veggies and red pepper sauce
This winter salad has it all and is delicious.
Ingredients
1 1/2

cup

raw couscous

3

cup

water

4

cup

mushrooms of your choice

1

onion

4

cup

broccoli

1

tbsp

olive oil

salt

black pepper

red pepper
for the red pepper sauce
170

gr.

roasted red peppers

1/4

cup

olive oil 

2

garlic cloves 

salt 

juice from 1/2 lemon 

1/2

tsp

red pepper 

1/3

cup

almonds 

1/4

tsp

black pepper 
Instructions
Start by pouring olive oil into a saucepan or wok.

As soon as it gets warm, add the onion. Saute for 2-3 minutes and add the mushrooms and broccoli.

Once they soften slightly, add the water and the couscous. Add the spices. Cover with a lid and cook for 10 minutes. Taste it and cook for a while more if you think you need it.

Set aside, cover with a towel and lid and leave for another 10 minutes. Serve with pepper sauce.

To make the pepper sauce, simply beat all the ingredients in the multi. Add a little water spoon by spoon until you reach the texture you prefer.
Did you try this recipe too?
Upload a photo on Instagram and tag me (@emilyvagia) so I can see it too or send me a photo on Facebook ..