This quinoa salad is amazing. You can make it in a few minutes with fresh vegetables and a hot peanut sauce.
This salad is the perfect detox dinner salad.
Στη δική μου αποτοξινωτική σαλάτα με κινόα έβαλα μπρόκολο, μωβ λάχανο, καρότο και κινέζικο λάχανο που αγαπώ. Είναι από τις εύκολες και χορταστικές σαλάτες που φτιάχνω κάθε εποχή του χρόνου όταν θέλω να φάω κάτι ελαφρύ, αναζωογονητικό και πολύ νόστιμο.
How to cook quinoa
This is the most important thing in this salad.
First we start by throwing our quinoa and twice the amount of water in the pot.
Boil without covering the pot until the water is absorbed along with a little salt. Once this is done, cover the pot and put it aside. Set aside for 5 minutes, uncover and mix with a fork.
The cooking time of quinoa depends on both its quality and its quantity. If you boil a small amount it can be ready in 10 minutes. If you boil a large amount it can take up to 20 minutes.
If you want other salad recipes you can find some here:
Winter salad with sauted vegetables
Vegan potato salad with chickpeas and buffalo sauce
Salad with lentils, broccoli and tahini dressing
Tips and Substitutions
Once you have prepared the quinoa salad, put it in the fridge for 15-30 minutes before enjoying it. This will mix all the flavors perfectly.
You can keep your salad in the fridge in an airtight container for up to 2 days.
Use whatever vegetables you want if you do not like what I used.
If you think you will not be full, add some protein such as tofu or some chickpeas.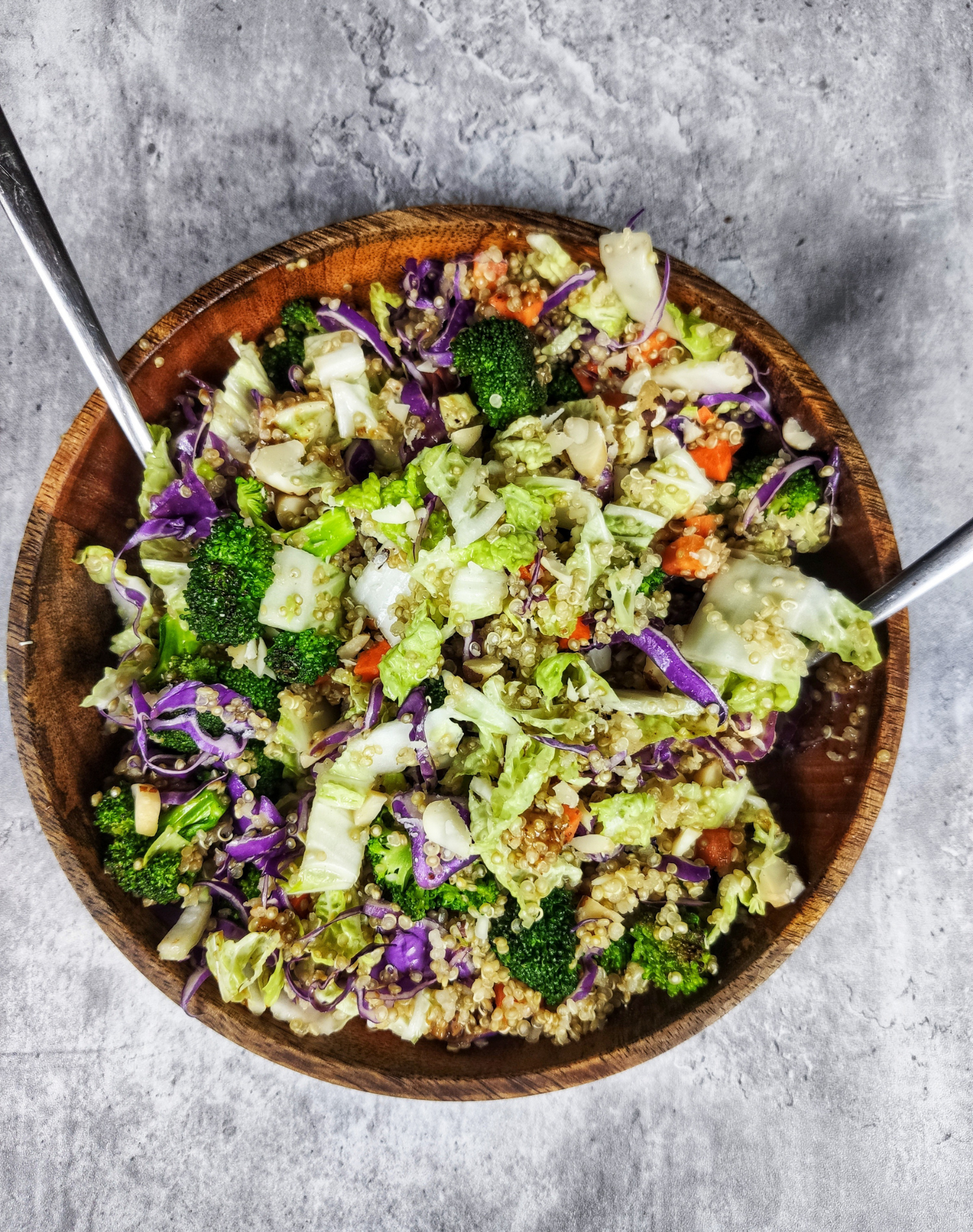 Quinoa salad
A divine salad that you can eat all year round.
Ingredients
1

cup

raw quinoa

1,5

cup

purple cabbage

1

cup

broccoli

1

carrot

1

cup

chinese cabbage

1/8

cup

peanuts of your choice
for the peanut sauce
35

gr.

(1/8 cup) peanut butter

1

tbsp

sesame oil

1

tbsp

soy sauce

1/2

tbsp

rice vinegar

1/4

tsp

ginger

1

garlic clove

1/2

tsp

maple syrup
Instructions
Start by boiling your quinoa so that it cools down well. In a saucepan pour 1 cup quinoa and 2 tbsp water. Add a little salt. Boil for 10-15 minutes until the water is absorbed.

Cover your saucepan with the lid and take the quinoa out of sight. Leave for 5 minutes, uncover and mix with a fork. Transfer the quinoa to a plate to begin to cool.

Chop all your vegetables. If you want you can sauté the broccoli in 1 tsp olive oil for 5 minutes.

To make the sauce just pour all the ingredients into a bowl and mix. If you want it thinner you can add a little water.

Mix all the vegetables with the quinoa and put in the fridge for 15-30 minutes. Remove from the fridge, mix with the sauce and enjoy.
Nutrition
Did you try this recipe too?
Upload a photo on Instagram and tag me (@emilyvagia) so I can see it too or send me a photo on Facebook ..