Potatoes with mushrooms are one of the quick, easy meals I make in those days that i do not have the time to spend more time in the kitchen.
Who does not love this wonderful combination? If you love mushrooms and potatoes then you will love this super simple dish.
The ingredients you will need to make this easy recipe are:
potatoes
mushrooms
onion
vegan feta cheese
mustard
clove
apple vinegar
How many calories does a serving have?
One serving of potatoes and mushrooms with a little mustard-feta dressing has 339 calories. Accompany your plate with a salad and you get all the nutrients you need to get from a meal.
If you want other recipes with potatoes you can find some here:
Crispy potatoes with cajun sauce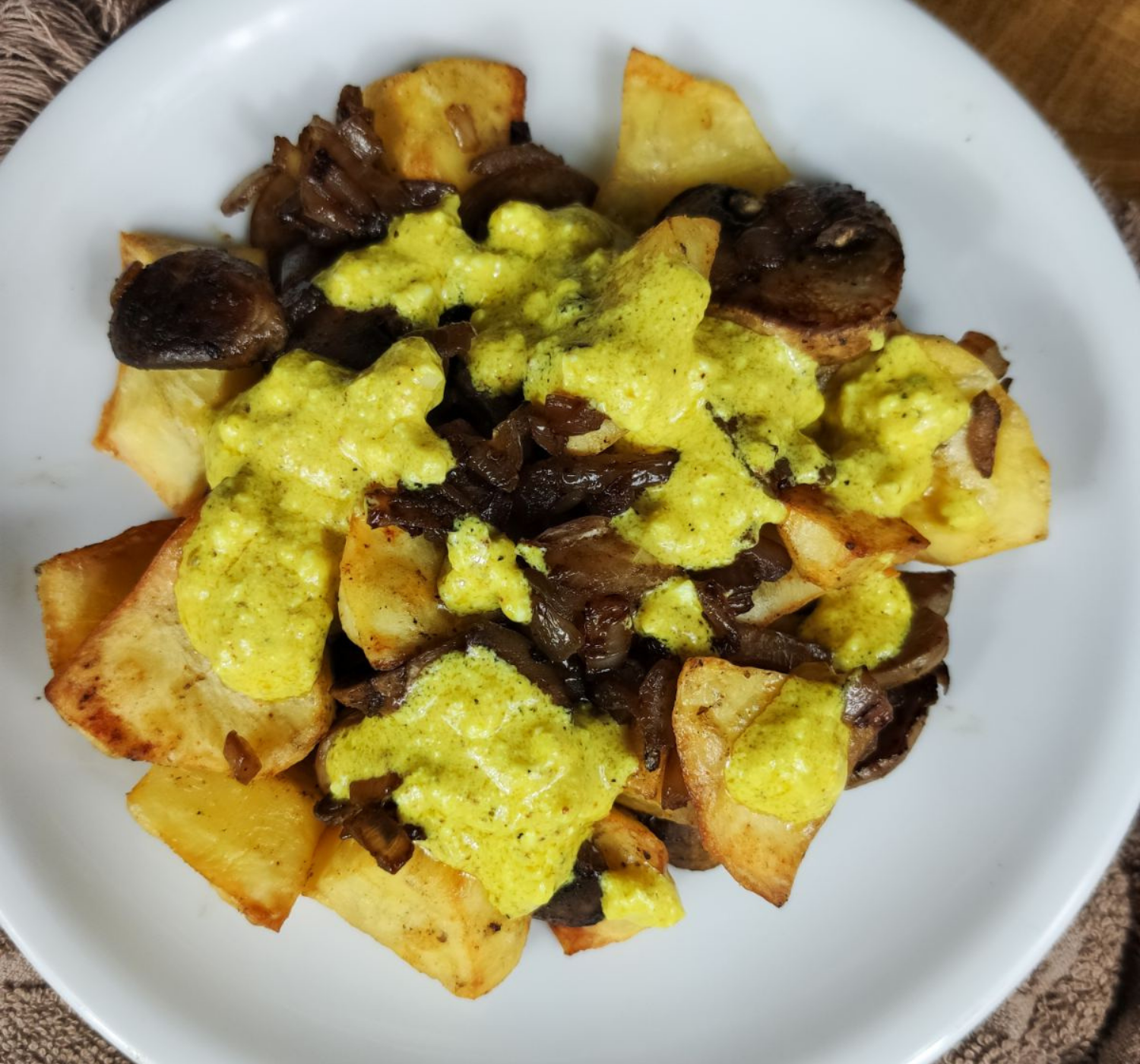 Potatoes with mushrooms
A vegan dish that if combined with a salad is a complete meal.
Ingredients
2

medium potatoes

4-5

cup

mushrooms of your choice

salt

1

tbsp

olive oil

black pepper

some rosemary (if you want)

a little dill or parsley (if desired)
for the mustard-feta dressing
1

tbsp

olive oil

1

garlic clove

1

tsp

mustard

1/2

tbsp

lemon

1

tsp

apple vinegar

1/8

tsp

salt

black pepper

1

tbsp

vegan feta cheese
Instructions
Start by cutting your potatoes into bites. Put them in a bowl and mix them with 1 tbsp olive oil and a little salt.

Spread the potatoes in a pan on non-stick paper. Make sure the potatoes so they can get crispier.

Bake at 180C for 30-35 minutes. In 15 minutes turn the potatoes.

Στο μεταξύ ρίξτε τα μανιτάρια σε αντικολλητικό τηγάνι με ελάχιστο ελαιόλαδο. Μαγειρέψτε για 6-7 λεπτά. Προσθέστε λίγο αλάτι, λίγο μαύρο πιπέρι, δεντρολίβανο αν θέλετε και μαϊντανό ή άνηθο. Αφήστε στην άκρη.

For the mustard-feta dressing, mix all the ingredients for the dressing in a bowl.

Once the potatoes are cooked, mix them with the mushrooms and pour the dressing on top. Enjoy.
Do not forget, if you make any of my recipes, to upload it on Instagram and tag me (@emilyvagia) or DM me your photos in Facebook or Instagram.