Divine zucchini meatballs with brown rice with minimal calories and great taste.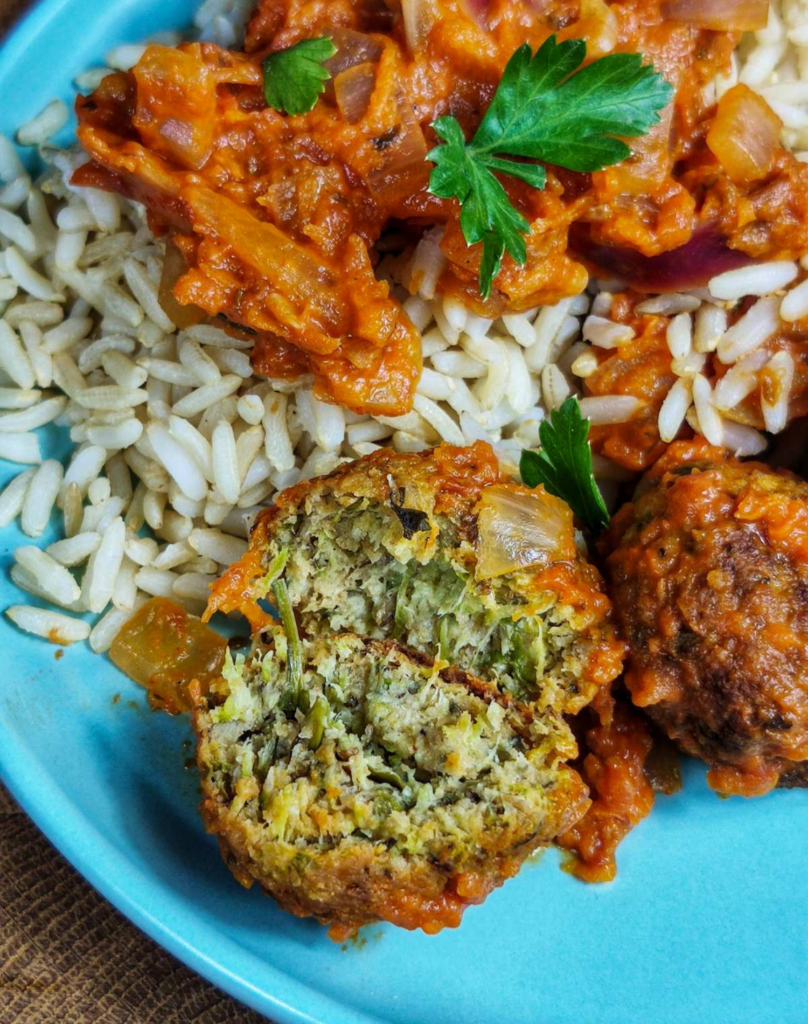 You will not understand that you do not eat meat. These zucchini meatballs are simply divine and go perfectly with spaghetti, rice, quinoa, potatoes and whatever else you want.
The basic ingredients that you will need to make these meatballs are:
Zucchini well drained
Breadcrumbs: You can use oat flour instead of breadcrumbs.
Grated Parmesan
Egg: The egg in this recipe can not be replaced because we want our meatballs to come out solid and not dissolve. Otherwise they will dissolve later when added to the sauce.
If you want other recipes with zucchini, check here:
Zucchini rolls stuffed with cheese
Piroshki with zucchini In the oven
Zucchini stuffed with minced meat and vegetables | Light
Grilled chicken salad with zucchini and homemade croutons!
How many calories does each meatball have?
Each zucchini meatball without sauce has 26 calories.
What can accompany zucchini meatballs?
The zucchini meatballs go perfectly with brown rice, pasta of your choice, baked potatoes, quinoa.
Of course you can just eat them with a slice of bread.
Zucchini meatballs in tomato sauce
Ingredients
1

cup

shredded zucchini drained

(περίπου 2 μεγάλα κολοκυθάκια ή 4 μικρά )

1

garlic clove

40

gr.

breadcrumbs

20

gr.

shredded parmesan

1

egg

1

tbsp

parsley

1/2

tsp

oregano

1/2

tbsp

thyme

salt

black pepper
for the creamy tomato sauce
1

onion

1

carrot

2

garlic cloves

360

ml.

(1,5 cup) tomatoes

2

tsp

tomato puree

4

tsp

cream cheese light

600

ml.

(2,5 cup) water or vegetable stock

parsley

basil

salt and black pepper

shredded parmesan (to serve)
Instructions
Start by grating zucchini. Drain very well to remove as much liquid as possible.

Put the zucchini in a bowl and add all the other ingredients.

Knead with your hands. Once all the ingredients are combined, divide the dough into 16 bites. Make meatballs and transfer them to a piece of non-stick paper in a pan.

Bake in preheated oven at 200 C for 15-18 minutes. Turn your meatballs in half. Allow them to cool completely.

Make the tomato sauce. Pour a little olive oil in a pan. Add the onion, garlic and carrot. Cook for 4-5 minutes. Add the tomatoes, tomato puree, parsley and basil and bring to a boil.

Lower the temperature and cook for 20 minutes. After 20 minutes add the cream cheese and stir until the cheese melts and you get a creamy tomato sauce.

Add the meatballs and mix carefully until they are covered by the tomato sauce. Cook for another 5 minutes and set aside.

Serve with rice, pasta or potatoes. If you want, add a little grated Parmesan on top.
Nutrition
Do not forget, if you make any of my recipes, to upload it on Instagram and tag me (@emilyvagia) or DM me your photos in Facebook or Instagram.